Our experienced and talented dental team is committed to working with you and your family to create a comfortable, stress-free, and rewarding dental experience every time you visit our practice. We are pleased to welcome you and your family, and we look forward to working with you. Perhaps., the most experienced team of Dentists in North Brisbane.
We treat people,not Just Teeth.
Our Practice Manager Nikki joined the Brookside dental team in October 2015. Nikki always strives to achieve great customer satisfaction and endeavours to provide the best possible care for every patient. She strongly believes in the benefit of developing a happy and efficient work environment. Amongst many things, Nikki has also completed her Certificate 3 in dental assisting.

Nikki loves spending her spare time with her two children, who attend local schools. Her daughter Abbey helps out in the surgery during the school holidays. Nikki enjoys socialising with friends and family, going to musical performances, catching the latest flick at the cinema and listening to music from the decades.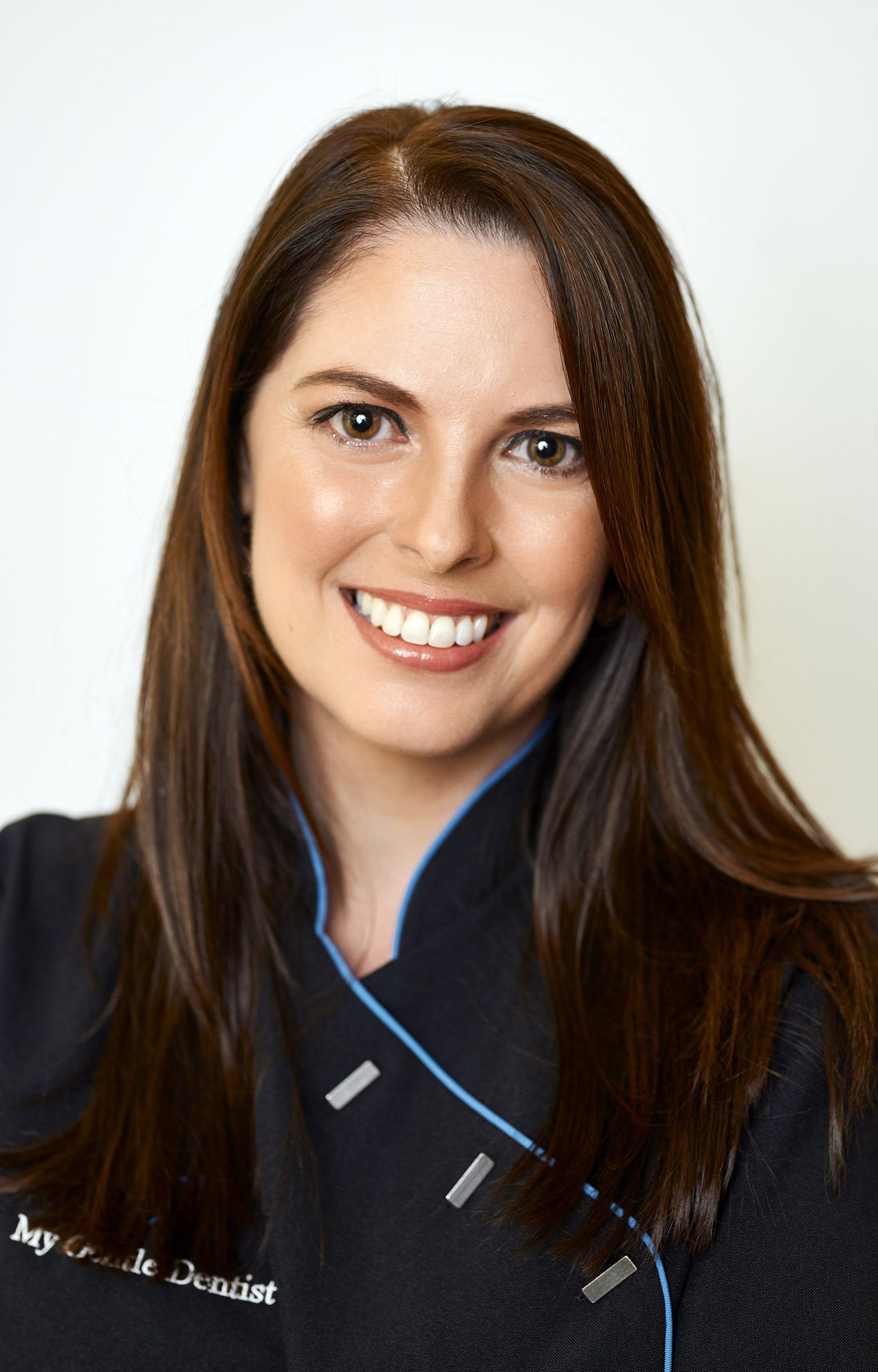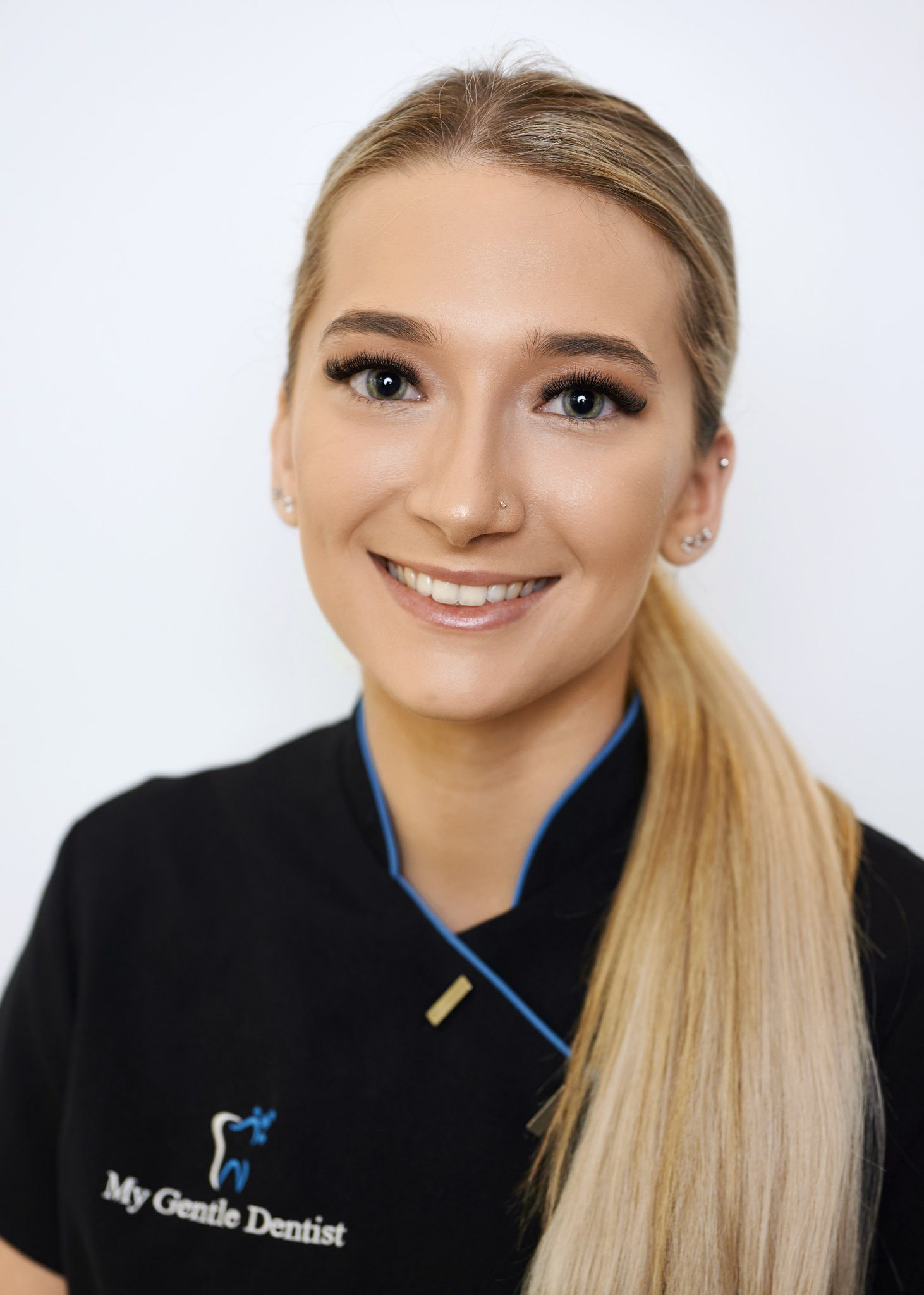 Shanay – Practice Manager and Dental Nurse
Our Practice Manager Shanay joined the Arana dental team in May 2019 and was one of the first Dental Assistants working in the practice for the grand opening in June 2019. Shanay believes the dental industry has by far been the most rewarding industry she has ever worked in, having also worked in customer service and administration roles for many years prior. Shanay strives to provide the best patient care in ensuring patients are comfortable and leave the practice with a smile on their face. Amongst many things, Shanay has completed her Certificate III in Dental Assisting.
In Shanay's spare time she loves spending time with her family, partner and friends and is heavily involved in functional strength training at the gym.
Leah embodies a friendly and bubbly personality that will make you feel at ease whilst feeling relaxed and nurtured. Leah has been working in the dental industry since 2016 and joined the team at Brookside in 2019. Leah has completed her certificate 3 in dental assisting as well as a certificate 4 in oral health.

Leah's hobbies include sewing and baking.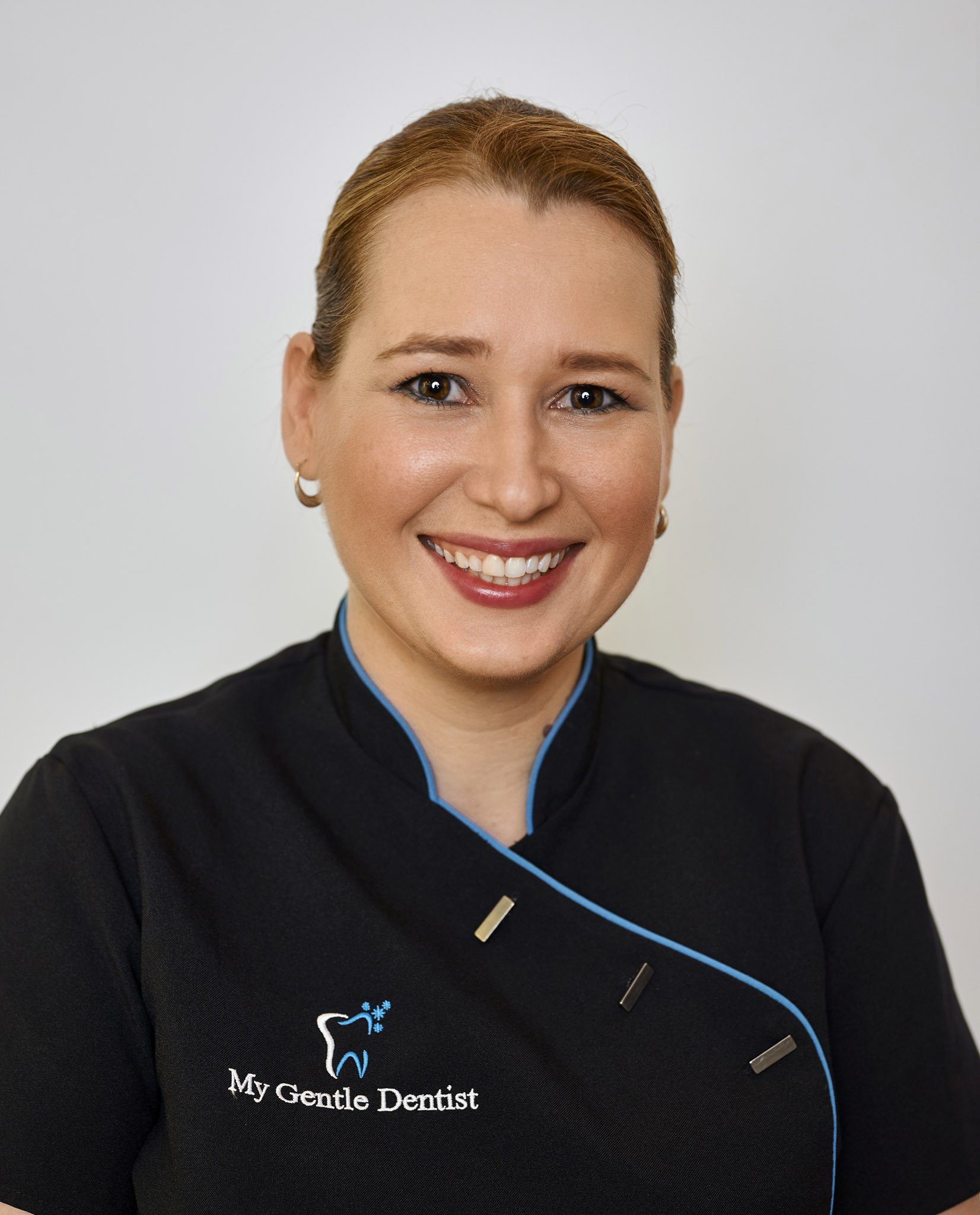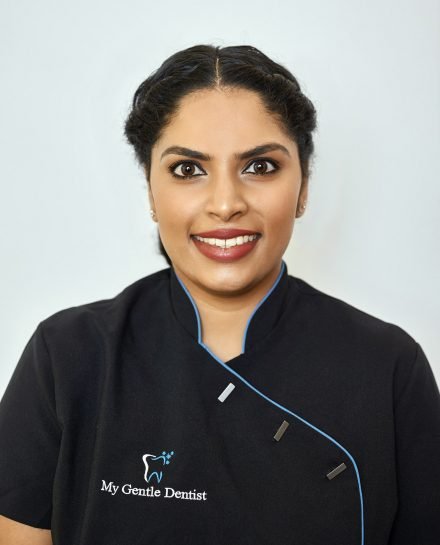 Sree – Dental Nurse and Receptionist
Sree moved to Australia with her husband in 2013 to pursue higher education. She has been in the dental profession for over eight years now. Sree started her career as a dentist in India and now enjoys working as a dental nurse and receptionist at My Gentle Dentist Brookside. Her desire to help others keeps her invested in the profession, therefore allowing her to give each patient the best care possible.

Sree enjoys travelling and spending time with her husband and son. She has a great passion for cooking and loves to recreate recipes with her own twist.
Abbey – Dental Nurse and Receptionist
Abbey is currently attending Mt Maria College, completing her senior years in high school. She has been a dental assistant at Brookside for almost 4 years and enjoys having the opportunity to gain extensive knowledge in the dental industry.
Abbey strives towards ensuring that her patients are treated with ultimate kindness and compassion and are made as comfortable as possible.
Once graduating high school, Abbey hopes to be accepted into the University of Queensland (UQ), studying medicine, ultimately having the ability to help young children.
In her spare time, Abbey is a competitive dancer who shares her love for dance through the kids that she teaches.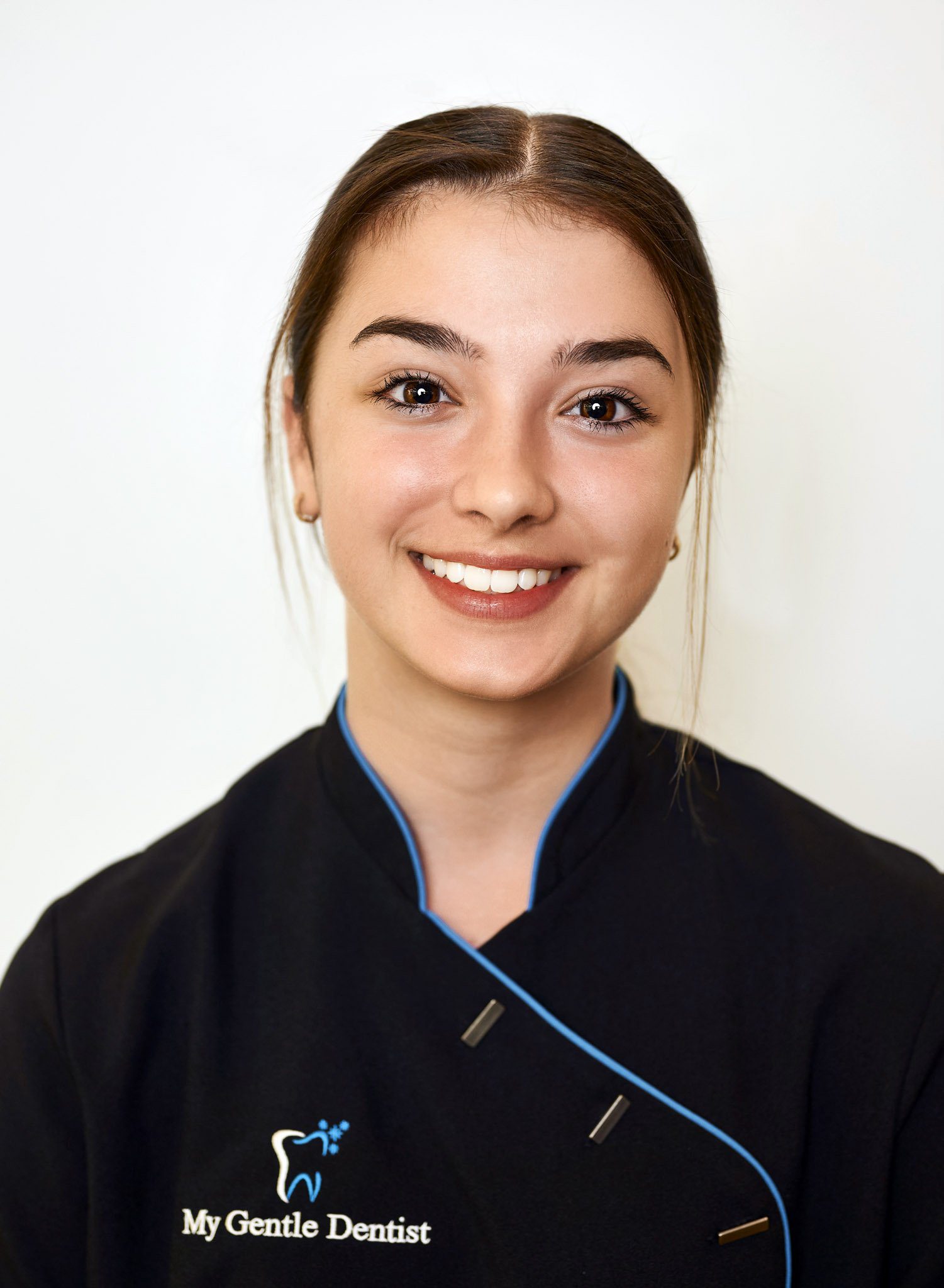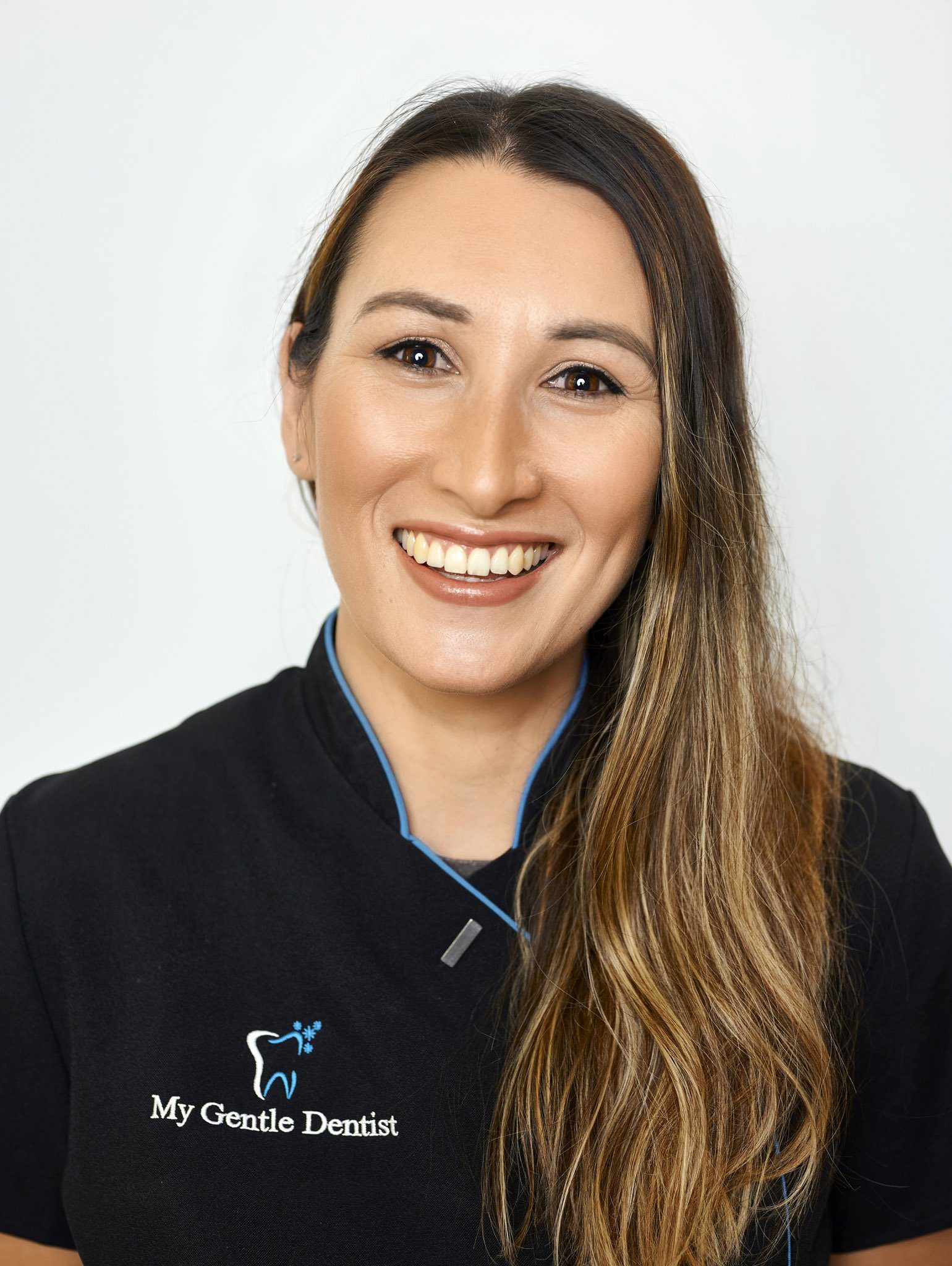 Sarah – Dental Nurse and Receptionist
Sarah joined the team at My Gentle Dentist Brookside in 2019.
Whilst undergoing her own orthodontic treatment, an interest in oral health developed, and this lead to further studies.
Sarah loves passing on dental hygiene practices to her two young children, setting them up for healthier teeth and gums.
Other personal interests include interior design and architecture.
Susan has worked in many Customer Care roles in various parts of the world and joined My Gentle Dentist Arana Hills in 2019 as a receptionist and thoroughly enjoys the industry. Susan moved to Australia in 2015 from UK and loves her life here. Susan enjoys meeting and assisting people to provide a positive experience. Susan is a mother of three, a coffee lover and enjoys spending time with her family and dogs. Two of Susan's daughters Demi and Paigen are currently studying Dentistry at James Cook University (JCU).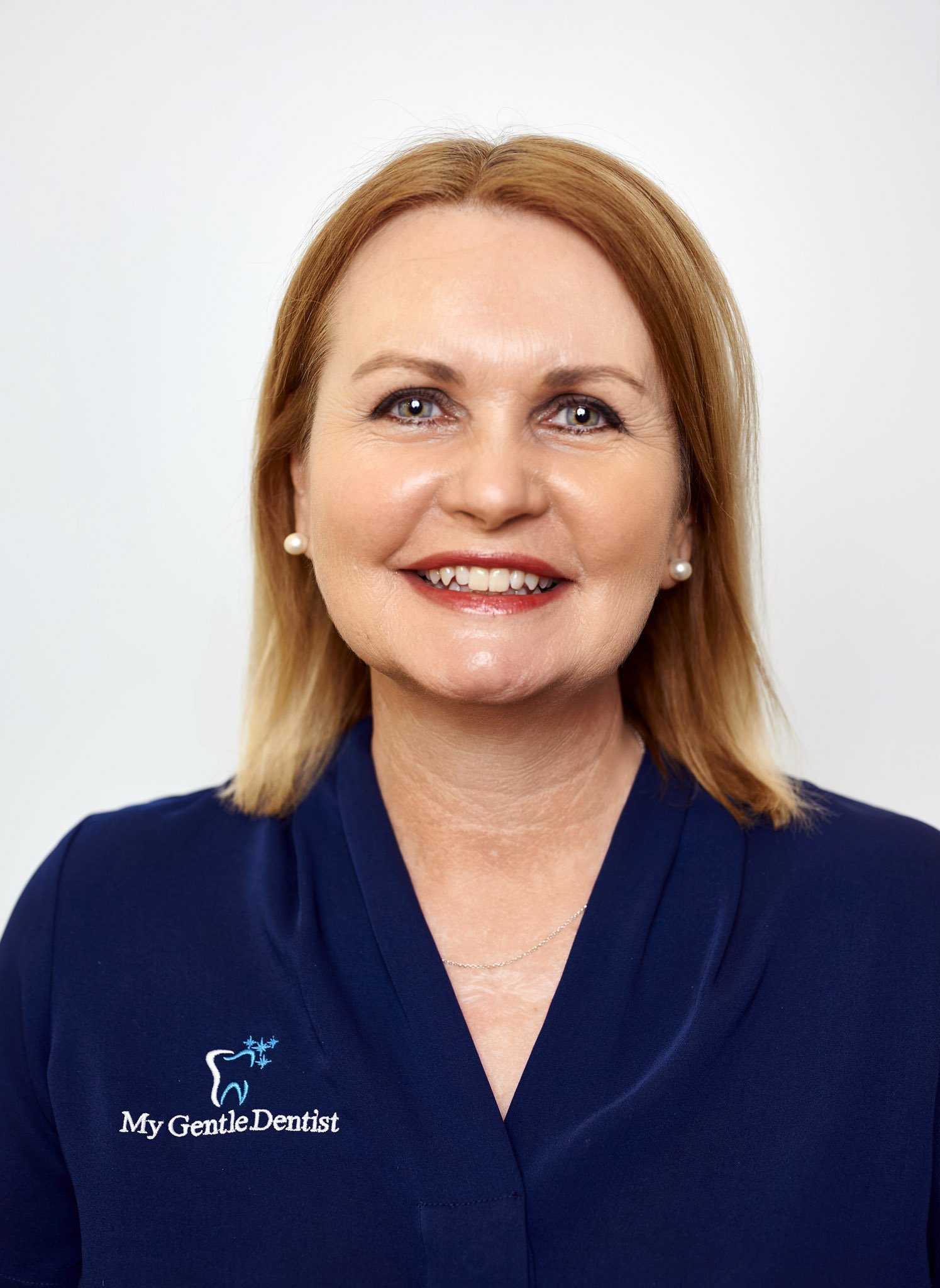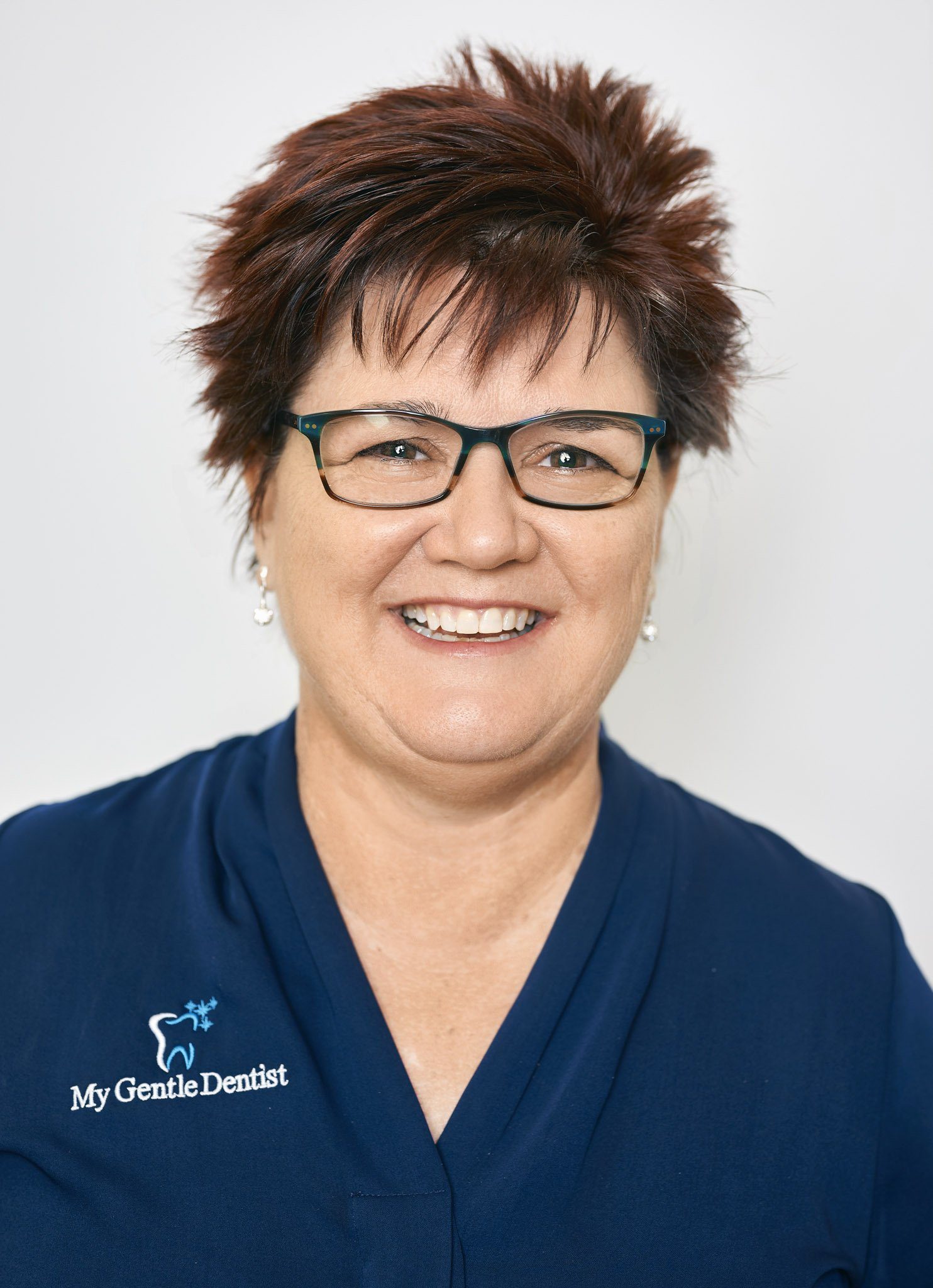 Vicki has over 25 years' experience within the dental industry, working in general, periodontics, orthodontics, and aged care dentistry. In a variety of roles from Qualified Dental Assistant, Treatment Co-Ordinator, Office Administrator and Clinical Manager. Vicki enjoys meeting new people and assisting them with their dental treatment and anxiety. In Vicki's spare time, she enjoys cooking, gardening, and spending time with her growing family and friends.
Tiarna started working in the dental industry in 2018 when she was lucky enough to obtain a Queensland Government Metro North Traineeship whilst in her senior years of high school. After working in the public health system for two years, Tiarna obtained her Certificate III in Dental Assisting. Tiarna then joined the team at My Gentle Dentist Arana Hills shortly after opening in June 2019 and has enjoyed working with the team ever since. Tiarna is currently studying Nursing Science at University full time and spends her free days working with the beautiful patients in the Arana Hills area. Tiarna loves working with children and supporting them throughout their dental experience.
Outside of work Tiarna enjoys gym and spending time with friends and family. To add to her busy life, Tiarna also owns a small dress hire business on the side which keeps her super busy.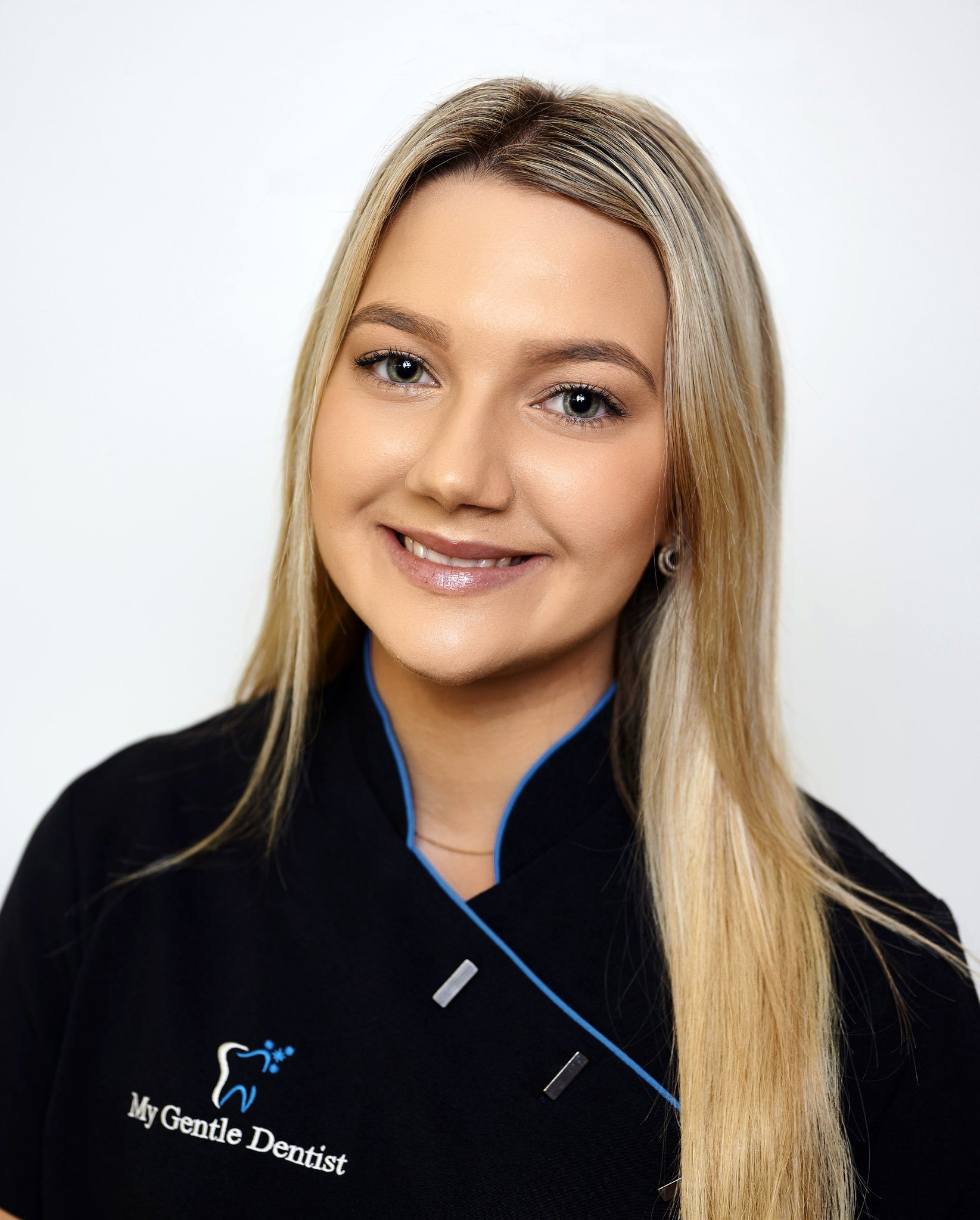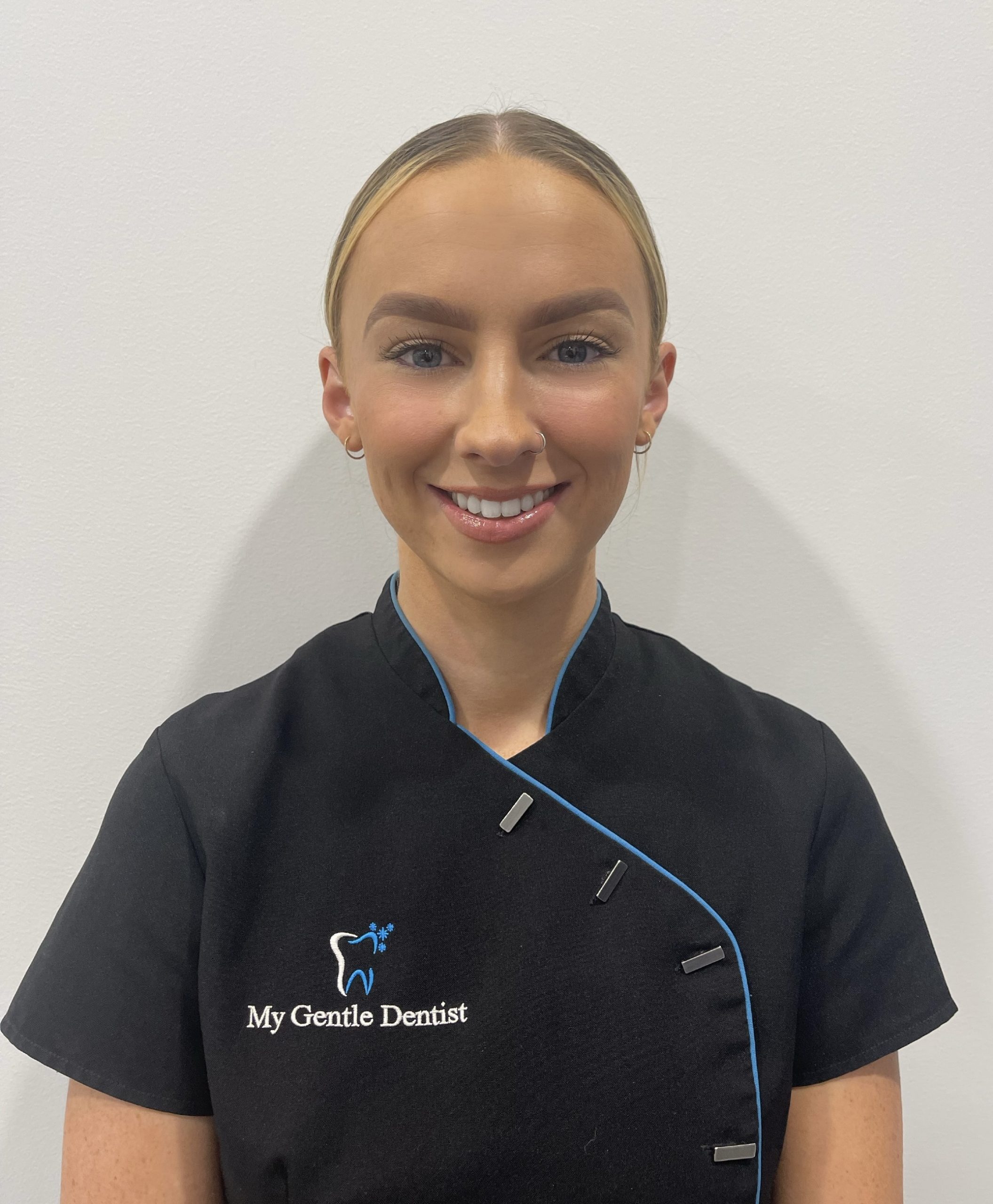 Ayla started her dental career with My Gentle Dentist in February of 2021 after completing a diploma of dental technology in 2020. Ayla loves developing new skills within the dental industry and working behind the scenes in the laboratory. Outside of work Ayla enjoys camping and 4WDing, and spending quality time with family and friends. Ayla has been highly involved in the athletic field including speed skating, swimming, and cycling where she raced for a sponsored team.
Sarah started at My Gentle Dentist Arana Hills in October 2021 as a dental nurse, where she is working hard to complete her Certificate III in Dental Assisting. Sarah was excited to join the Dental industry as soon as she graduated high school in 2021 after discovering her passion for Dental Assisting after she was lucky enough to obtain work experience in a Dental practice in 2019.
Sarah is always up for a new challenge and experience, so in her spare time she likes to go adventuring with her friends and family to new places like the beautiful beaches and mountains around Queensland. Outside of work, Sarah continues to express her love for the artistic side of the beauty industry.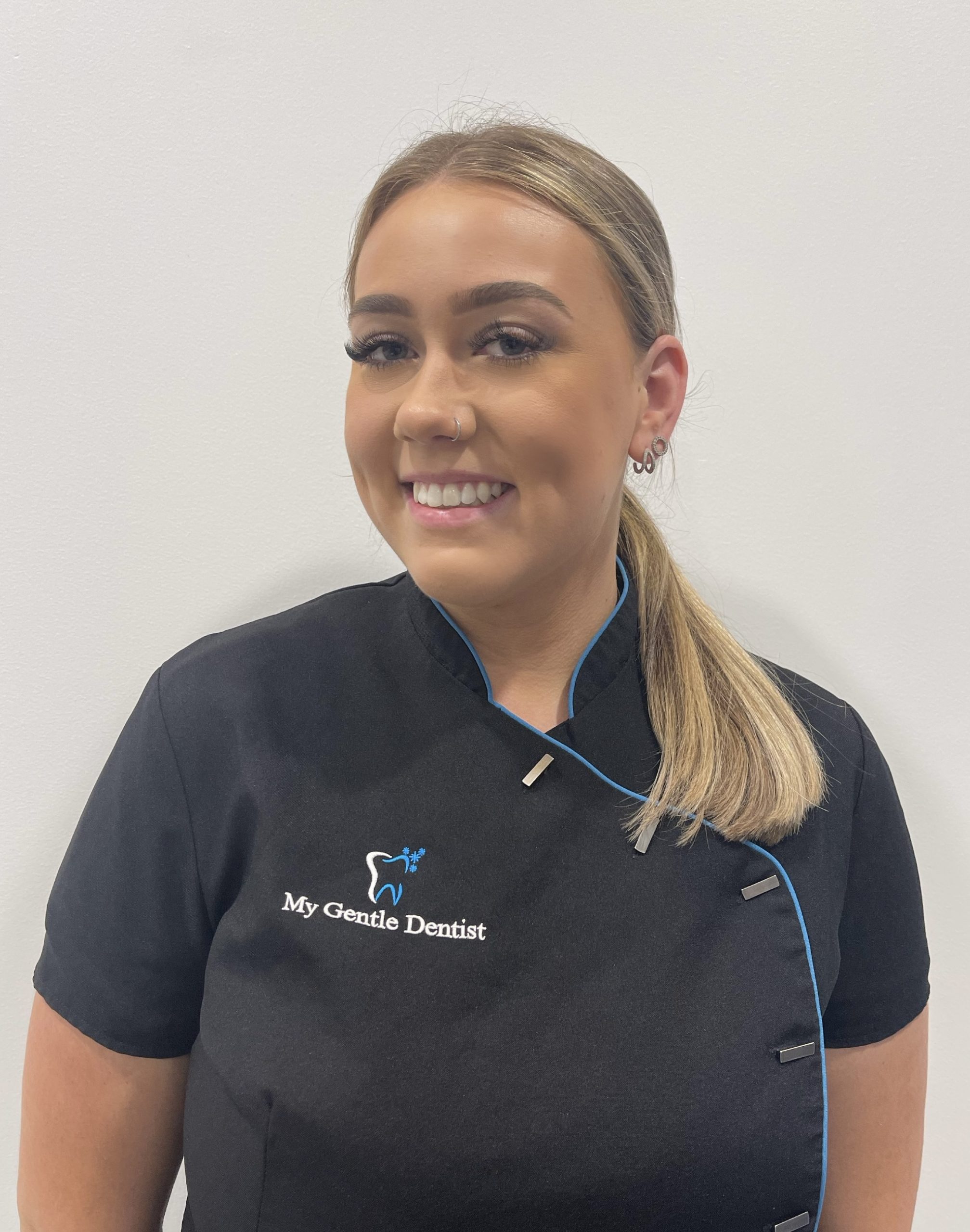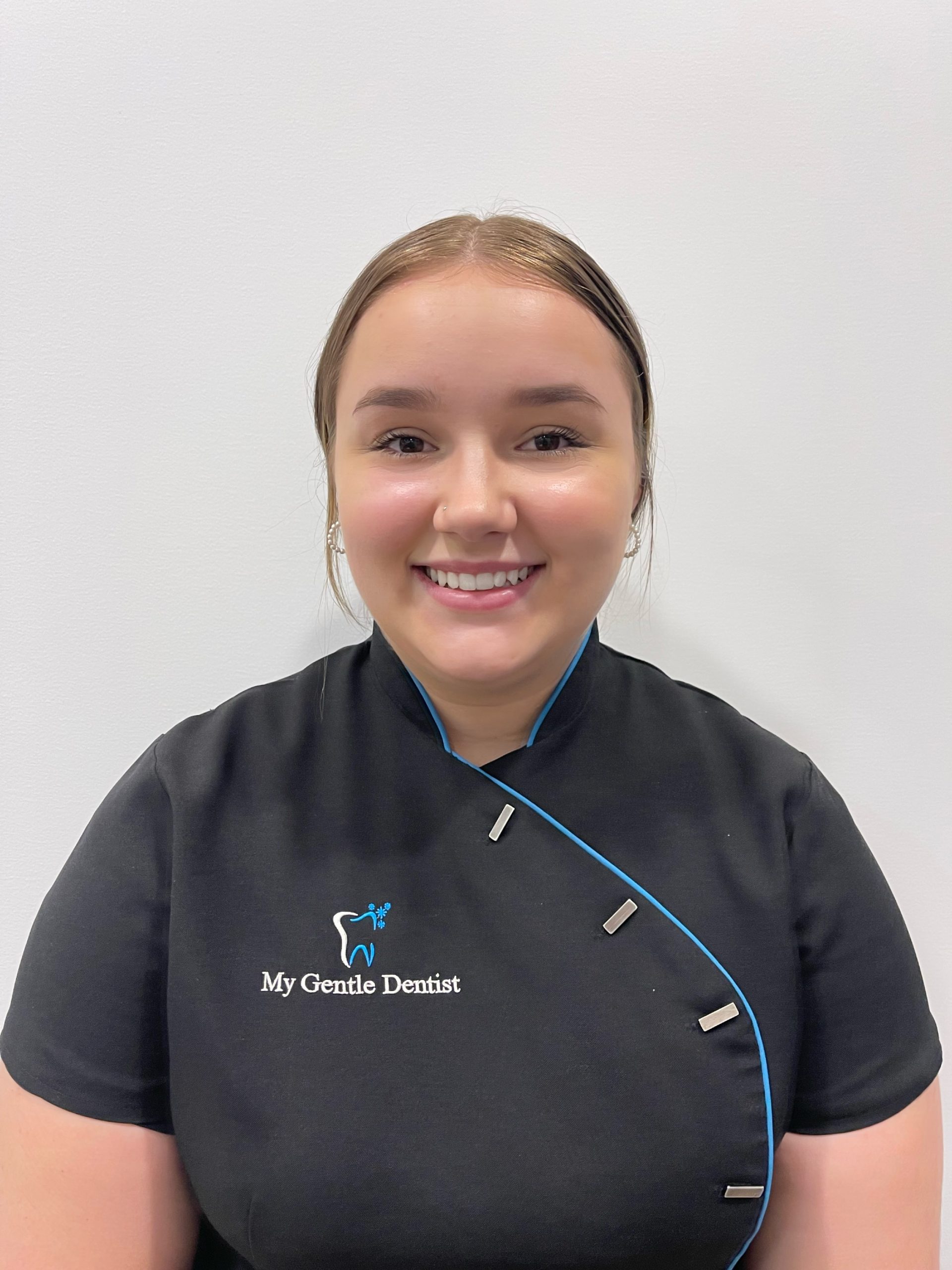 Hannah started at My Gentle Dentist Arana Hills in November 2021 as a dental nurse where she has completed her Certificate III in Dental Assisting. She has found the transition into the dental industry very interesting and has enjoyed every minute of it. Hannah enjoys being able to learn and work alongside a friendly team. In her spare time, she enjoys spending time walking her sausage dog Gunnar or spending quality time with her friends and family.
Tina started at My Gentle Dentist Arana Hills in June 2021 as a Receptionist after working as a Beauty Therapist for 12 years. The change of career into the Dental Industry has been very interesting and rewarding. She enjoys constantly learning about the many different Dental procedures that My Gentle Dentist offers. In Tina's spare time, she enjoys time with her family and 2 small children and cats.